Legionella Monitoring Out Onsite
The Legionella Monitoring app has been redesigned specifically to work with the new Legionella Planner in TEAMS V3. This new mobile app brings new and exciting features with it, while still staying true to its customisable data collection and risk triggering system.
New enhancements to the mobile diary system include new abilities to combine multiple work types into single jobs. This new version also brings with it the introduction the building structure system (from asbestos surveying) into the legionella system. This allows the technicians to move through the sites faster, while also providing more structured data for improved reporting capabilities.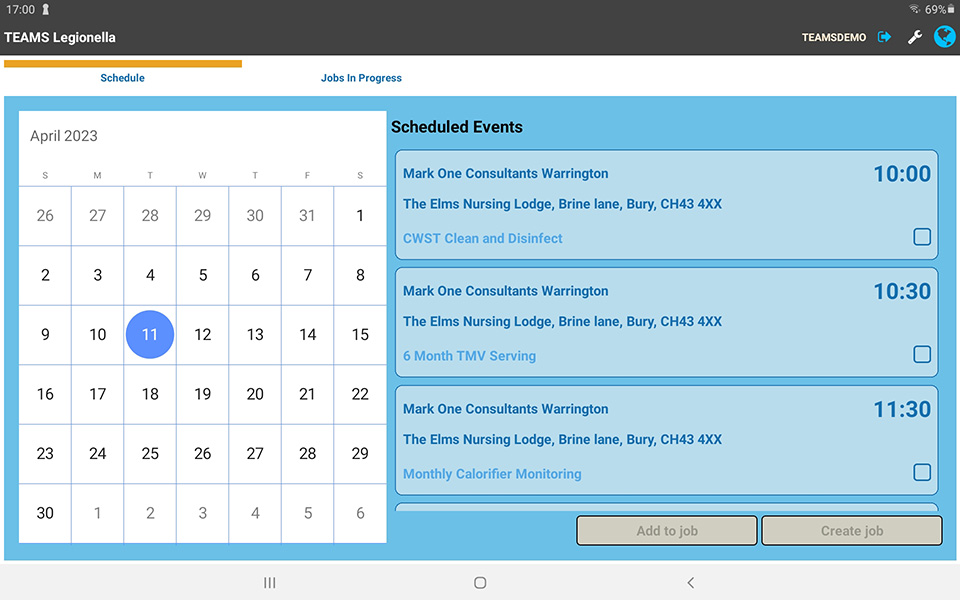 Mobile Diary
The new mobile diary interface in TEAMS Legionella Monitoring allows for clearer work instructions to come down to the field staff, and show work over a long period.
Works for a site can be grouped together and place under a single job (or multiple jobs if required) depending on the clients reporting requirements.
Out onsite
Once the work has been downloaded to the TEAMS Legionella Monitoring app, existing site data can be pulled in to build a picture of the existing site structure including its currently known assets and outlets, and their locations.
If it is the first visit to a new site, the site can be built up as the technician moves around, creating the assets and outlets as they go.
For repeat visits, assets and outlets can be updated with ease to reflect their current state. The type of data collection and questions posed are determined by the type of work booked for the day.