Sample QC
Sample QC's are required to be completed for all samples analysed, which fall into the 5% and 20% rules in the HSG 248 guidance.

To complement the TEAMS sample analysis system, the built-in sample QC functions allow you to easily monitor, perform and review sample QC checks.
The QC overview screen is designed to be the central hub where all information can be viewed at a glance to see the state of play in the lab.
Commonly requested information has been grouped together to quickly and accurately find when and where sample QC has taken place and needs to take place. This can be done for individual lab technicians or for the whole lab team collectively.
Fibre observation screen (in blind QC mode)
Alongside the overview information, a detailed log of all samples analysed on a given day is shown along with the individual technician's automatic points tally for all samples analysed. This allows you to see at a glance their progress as well as cherry pick samples for QC'ing.
Once you have picked out the samples you wish to QC check, these are automatically loaded into the TEAMS Sample Analysis screen in QC Mode*.
Once the QC analysis is complete, the system compares the QC result with the original result and prompts if these are different.
Depending on the job's progress through the system, the results can either be updated immediately or the system can prompt for a supplementary report to be produced if the original report has already been approved.
All changes as well as the actual QC fibre observations are logged and audited in TEAMS for future reference and further reporting.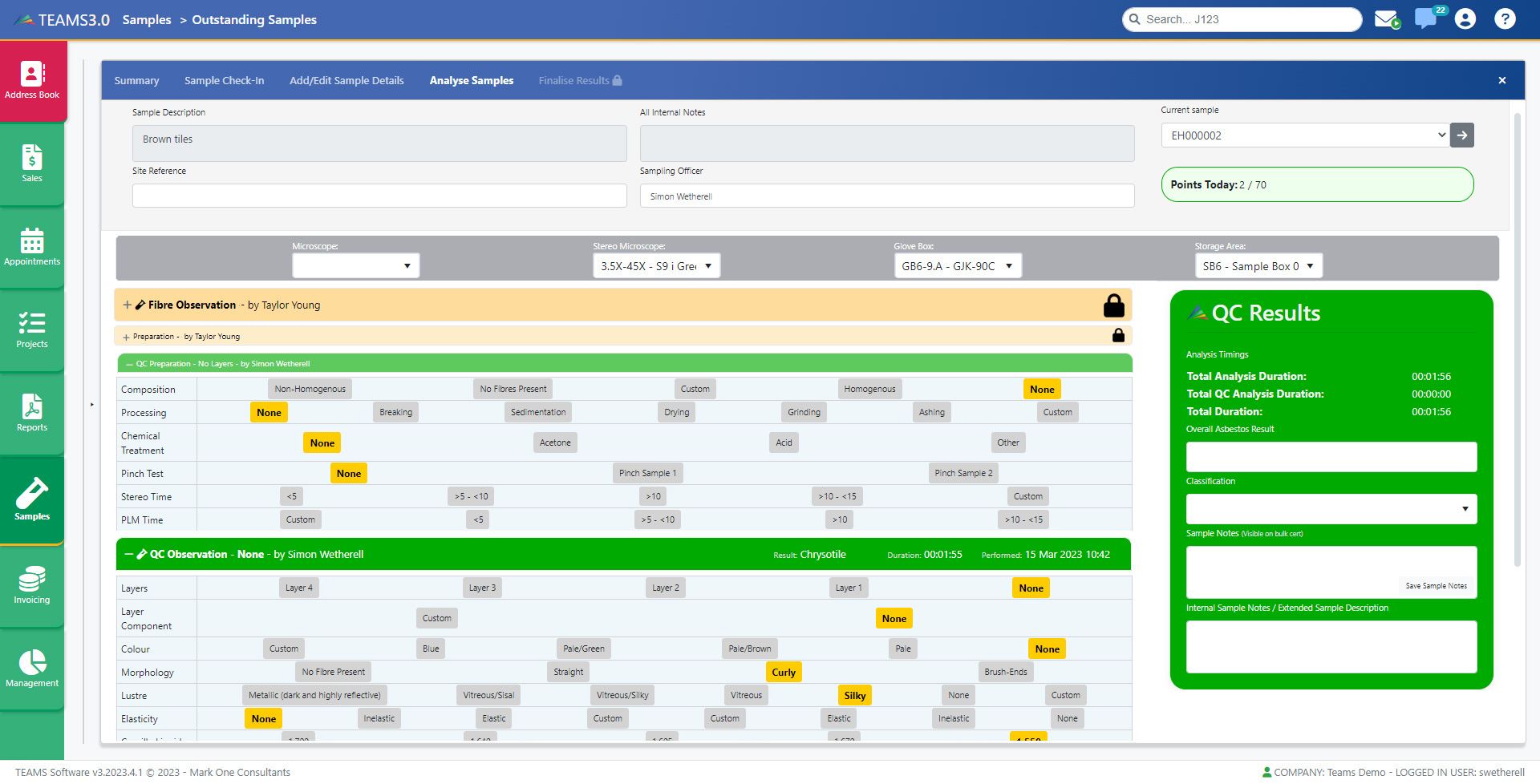 *QC Mode allows you to use the TEAMS Sample Analysis Screen to capture further fibre observations while hiding the original results; allowing you to perform blind QC.
After QC
Once sample QC has been completed, the main overview screen is updated automatically to show you at a glance which samples have been QC'ed, by whom and when this quality check was performed.