Released On 4th Oct 2022
Onsite. On time. Online. But do the benefits of offering a portal outweigh the cost?
Offering your clients a web portal to access their data can be a cost effective way of delivering reports and site data, as well as offering clients the opportunity to manage their sites more effectively.
Everything from asbestos surveys and air test certificates, risk assessments and monitoring reports, through to invoices and quotations can be published automatically via the portal as work and events progress through TEAMS. But how can this tool benefit your consultancy and clients? Below is a roundup of some of the key features and benefits of offering a portal.
Report Delivery
Where the TEAMS portal is available, TEAMS will deliver completed reports, legionella surveys and air test certificates, containing all of the assessment details directly to the client.
The alternative is to send clients their reports, air test certificates or legionella surveys manually, a potentially lengthy and time consuming process.
Contractor Access
External contractors can be given access to a client's portal, with specific permissions set so they can only access the data relevant to the client's site they are visiting.
Using the TEAMS portal, the contractor will be able to access the latest reports and ACM details for the specific location(s) they may be working in whilst onsite. This saves the contractor from having to rely on potentially outdated paper reports to identify exactly where, and what the ACM is.
Another advantage is that allowing the contractor to access the locations details whilst onsite saves the consultancy from having to action additional client requests, for the latest site reports to be sent to the contractor before they arrive onsite.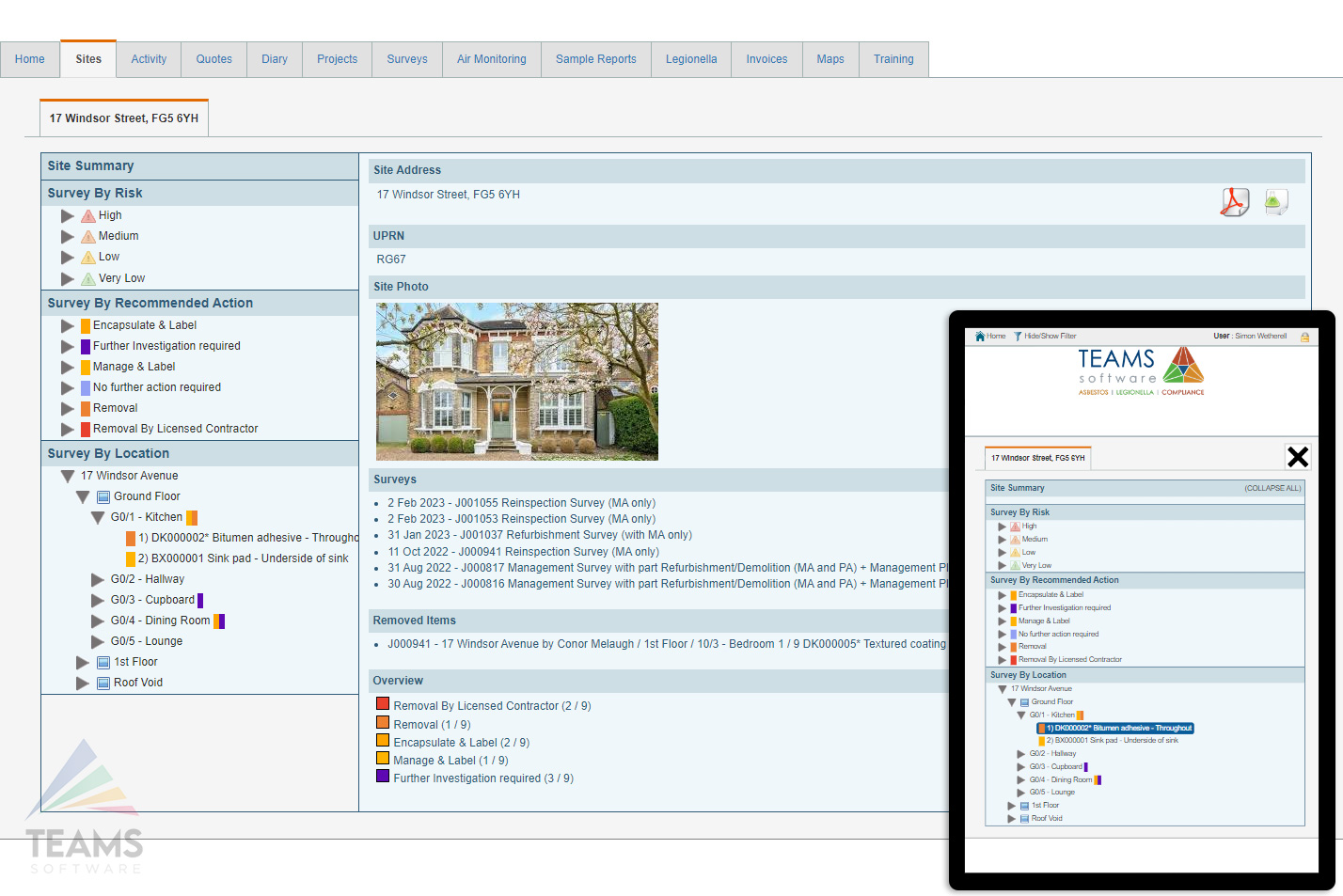 Survey Explorer on TEAMS Client Portal
Compliance Overview
The TEAMS portal combines all of a client's site data to provide an overview of the total number of sites that have been surveyed, how many are yet to be surveyed and the total number of sites that do not require a survey
The TEAMS portal also compiles site data to give an overview of the total number of risks, recommended actions and timescales, all of which provides an up-to-date synopsis for clients concerned with managing risk and compliance.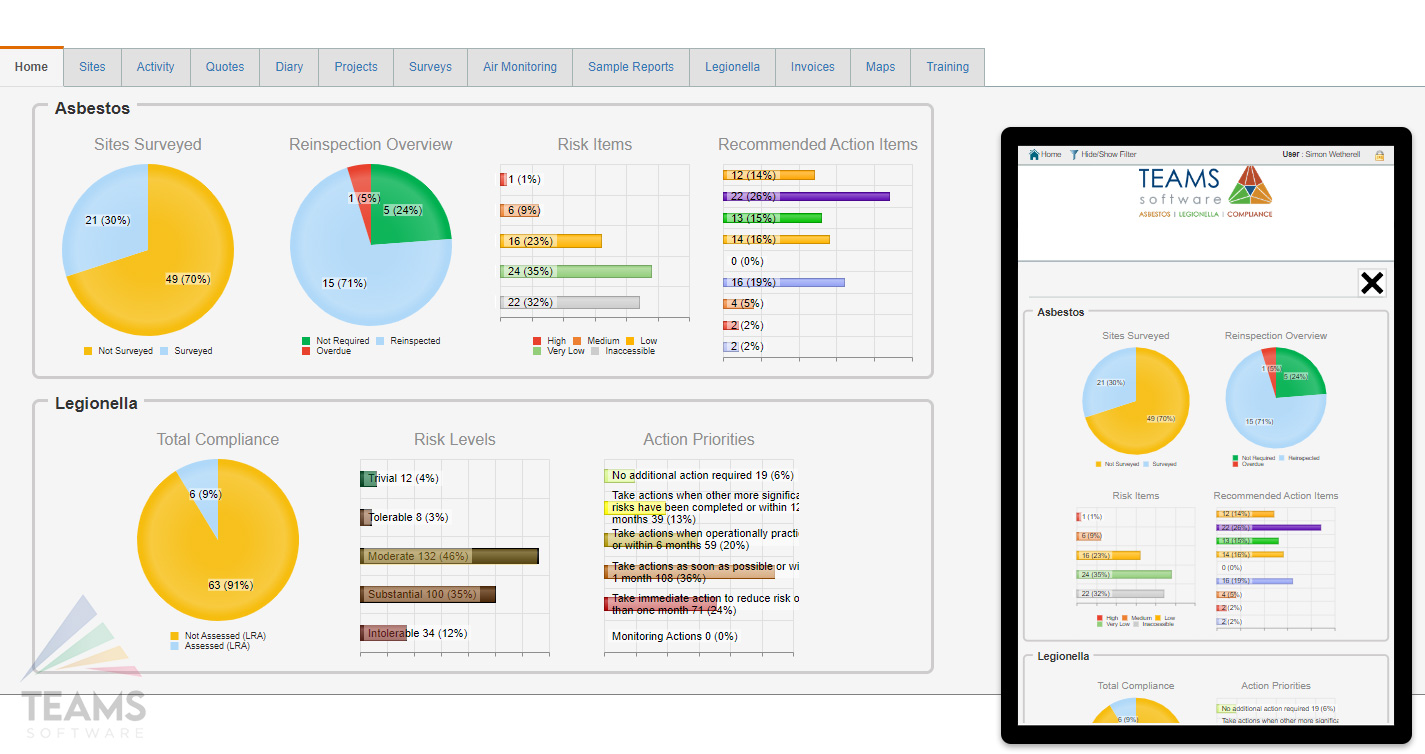 Compliance Overview on TEAMS Client Portal
Management
Special access can be granted to certain staff members enabling them to monitor and update the priority risk assessment for identified asbestos objects inside their buildings and sites.Where room use or function changes over time, the client will be able to manage their risk by keeping the records up to date. Items that have been removed or encapsulated since the last survey was carried out, can also be recorded by your client using this function within the portal.
As adjustments are made, the risk scores and ratings are automatically updated to give an up to date representation of the item, room and building in question, allowing clients to manage and maintain the management plans for their sites and buildings.
The freedom and additional management functions the TEAMS portal offers clients can save a consultancy significant amounts of time processing requests and updates from clients, whilst empowering the client to better utilise this important data themselves, for their own benefit and that of their own staff.
Find out more
To find out more about TEAMS Client Portal, click here.
Category: Portal